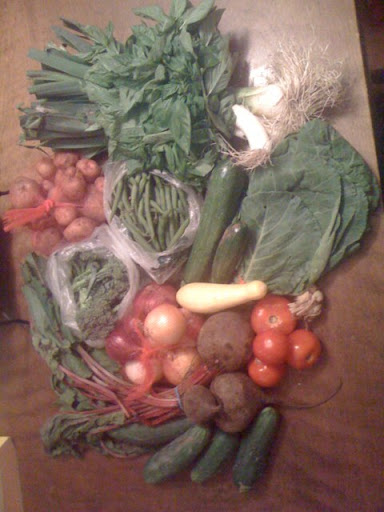 GeoTagged, [N30.58021, E97.85357]
I've come to love Wednesday because it is the day each week that I pick up my share from Johnson's Backyard Garden at the Austin Farmer's Market at the Triangle. I joined the CSA in February and have been very happy. Today was the best box ever! Don't get me wrong, winter veggies were delicious and I had fun trying new things, but Fresh Green Beans!! And tomatoes and oh the wonder that is huge bundles of basil!!
As you can see we got this week leeks, cucumbers, new potaoes, green beans, broccoli, garlic, red and white onions, zuccini, yellow squash, tomatoes, collards, beets and basil! Not bad for $30 a week. Heck that much basil at the HEB would be $12 alone. And it's organic and local, I am a convert. Now into menu planning- the fun part for me; digging through cookbooks and figuring out how to use it all before next week. I can already see caprese salad in my future.....